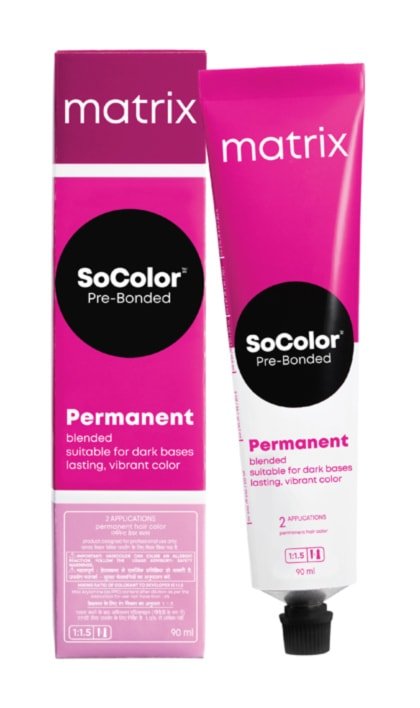 Fashion Fashion
Matrix SoColor
With pre-bonded formula, protects your hair color after color! Get perfectly vibrant hair color with So Color!
SHADES
DETAILS
Introducing Matrix SoColor – an innovative and caring hair coloring product that is perfect for your precious tresses. The hair care pros at Matrix displayed great effort in designing a super effective permanent hair color product for an ethereal hair coloring experience. The Matrix SoColor is a permanent nourishing hair color enriched with Kera-Protect TechnologyTM that provides long-lasting, vibrant chocolate hair color with mahogany reflects and 360-degree keratin protection. What's more, the Matrix SoColor pre-bonded formula cares for and shields your hair after coloring your mane.
Your hair feels soft to the touch and stronger than ever! Additionally, you can get impressive solutions for your grey strands. Yes, you read it right! Matrix SoColor comes with an anti-drying formula and offers grey coverage for up to 100%. Matrix SoColor is more than just a hair color. It protects the inner hair structure after the hair coloring process. This permanent hair color from the house of Matrix enters the deepest levels to provide the most true-to-tone fashion results while safeguarding hair integrity.
Be it cool or warm, get consistent results every time on any hair type with SoColor! Wondering what are shades available under this Matrix SoColor hair color range? Believe it or not! Matrix SoColor hair color provides a wide palette of 40 shades! Isn't it amazing!
HOW TO USE
SoColor is the most user-friendly hair color and the results are truly hypnotic. Follow the step-by-step guide to achieve a stunning hair color result.
• Step 1: Make sections in your hair and secure those sections with clips (preferably duckbill hair clips). Place a towel around your shoulders.
• Step 2: Matrix SoColor hair color has an easy mixing ratio of 1:1.5. Mix the colorant and developer in the mentioned ratio, i.e., if you are using 30 ml of SoColor, then mix 45 ml of developer.
• Step 3: Wear gloves. Take the hair dye brush (also called tint brush) and start applying it in each section. For best results, you can also use your hands to ensure each strand is coated well.
• Step 4: Wait for 35-45 mins and rinse with water.
This Matrix hair color provides exceptional color brilliance to the hair when mixed in even consistency, and applied evenly and adequately in sections.
Matrix SoColor is a permanent hair coloring product that ensures even hair color results from roots to ends, and can be used to help lighten, darken, or tone the hair without compromising the natural integrity of the hair. It provides up to 100% grey hair coverage and is available in 90gms tube.
WHY WE RECOMMEND
Matrix SoColor hair color is trusted and recommended by hair care experts for the following reasons:
1. Matrix SoColor boasts 360 Kera-Protect technology that helps protect hair keratin and leave it fortified. As a result, your hair can prevent breakage and brittleness and emerge as strong and healthy.
2. SoColor ensures your hair fibres are smoother so that you can witness an even and vibrant hair color.
3. If grey strands are letting you down, then it is time to opt for an optimal grey hair solution. Matrix SoColor hair color is blessed with an anti-drying formula and is notable for delivering up to 100% grey hair coverage. So, bid adieu to grey hair days with the advanced hair dye – Matrix SoColor.
4. Matrix SoColor is pre-adjusted for Indian hair to deliver accurate results even on darker levels. Color and care for your hair with the all-new Matrix SoColor hair color.
Check out the Matrix hair color range and choose the hair tint that suits your personality the best.