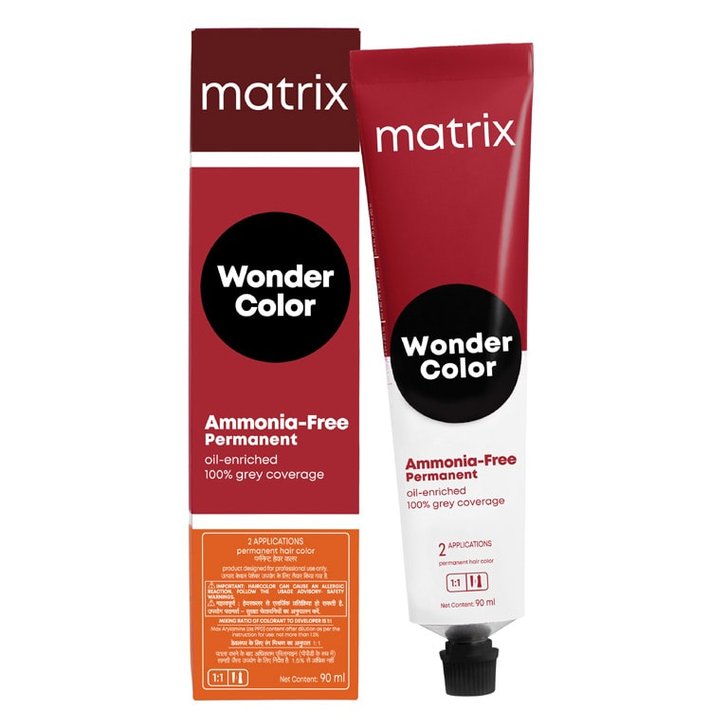 Ammonia Free Ammonia Free
Wonder Color
Ammonia-free gentle caring Color. Cover your greys worry-free.
SHADES
DETAILS
Introducing Matrix Wonder Color Ammonia-Free, the ultimate solution for professional hair colour that not only enhances your hair but also cares for it like never before. Our unique oil-enriched colour system is meticulously crafted to provide you with gentle, even, and long-lasting grey coverage, ensuring that your hair looks stunning while remaining nourished and healthy. Wonder Color offers nourishing and ammonia-free formula that delivers true-to-tone colour results that last.
What's more, Matrix Wonder Color has 20% caring ingredients, ensuring that your hair gets the love and attention it deserves. Say goodbye to those stubborn grey hair as Wonder Color provides 100% grey hair coverage, allowing you to regain your confidence. It has an innovative colour lock technology that gives you a long-lasting colour that remains dazzling for up to 8 weeks. The hair colour lasts up to 32 washes, leaving you with consistently beautiful results.
The Matrix Wonder Color Ammonia-Free has the patented coacervation system and a trio of nourishing oils, which leaves your hair feeling exceptionally well-conditioned. Gentle on the scalp, the formula of this hair colour is free from parabens, alcohol, and silicones, ensuring a soothing application process. Prepare to get dazzled by your hair's 5X shine post-colouration. With a palette of 24 captivating fashionable and natural hair colour shades, our oil-enriched Matrix Wonder Color system provides 2X nourishment for hair that's truly vibrant and healthy.
HOW TO USE
Achieving beautiful and vibrant hair with Matrix Wonder Color Ammonia-Free is a simple and straightforward process. Follow these step-by-step instructions for the best results:
• Step 1: Begin by wearing suitable gloves to protect your hands. It's a good idea to have an old towel or cape handy to protect your clothes.
• Step 2: Squeeze out the desired amount of Matrix Wonder Color in a non-metallic bowl. The amount you need will depend on the length and thickness of your hair. Refer to the product packaging for specific mixing ratios. Mix thoroughly until you have a smooth, even consistency.
• Step 3: Divide your hair into sections using clips or hair ties. Start applying the colour from the roots, working your way down to the ends. Use a brush or applicator for precise application, ensuring that every strand is evenly coated with the product. Be thorough but avoid applying colour to your scalp.
• Step 4: Once the colour is applied, allow it to process for the recommended time mentioned on the product packaging. This processing time ensures that the colour fully develops and coats your hair effectively.
• Step 5: After the processing time is complete, rinse your hair thoroughly with lukewarm water until the water runs clear. Make sure to remove all excess colour from your hair.
Ingredients
The Matrix Wonder Color is enriched with three oils. This oil-enriched colour system helps nourish your hair intensely. It is free of parabens, silicones and alcohol and is extremely safe for your hair.
So, browse through a wide range of shades from the Matrix Wonder Color range. Get your hands on other hair colour products like the Hair developer and the Lightmaster to enhance your colour.