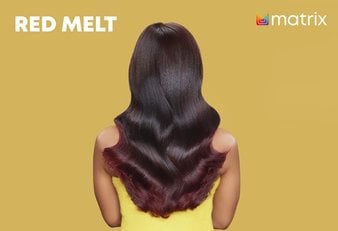 Red melt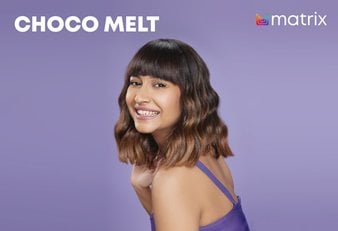 Choco melt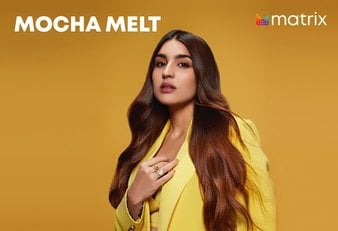 Mocha Melt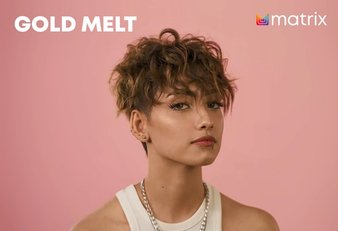 Gold melt
Explore the latest styling and hair coloring trends with Matrix
Learn the hottest styling and hair color trends and unlock the hair transformation of your dreams. Consider this your virtual salon, where you can take a front-row seat to witness the dynamic change in your hair color and style. From runway-inspired looks to everyday styles that turn heads, we bring to you a curated collection of captivating trends that are ruling the world of hair style and hair color.
Here are some of the hottest Matrix professional trends of the season:
Trends keep changing every season and this time around, ombre and balayage are stealing the spotlight. These two captivating techniques are popular among trendsetters, hair professionals and style enthusiasts alike, offering a fresh take on color and dimension that effortlessly elevate your entire look. Matrix has come up with a Color Melt technique that allows you to blend two or more hair colors with ease. It has up to 40 different shades to choose from and is perfect for Indian hair texture. Here are the top 4 Matrix hair color trends using the Color Melt technique you can try this season.
Red Melt:
The Red Melt is a Matrix hair color trend that seamlessly blends rich shades of red, creating a captivating transition from dark tones of your natural hair to red fiery tones of the hair color. This ombre or balayage style infuses warmth and vibrancy, reminding you of a sun-kissed autumnal glow. We recommend using the Matrix SoColor that has reds and plums that can easily blend in with your dark hair.
Choco Melt:
Looking for a hair colour that is not too bold and looks subtle? The Choco Melt hair color trend is just the right one for you. This trend offers a subtle and elegant transformation, resembling the way chocolate softly melts under heat. Whether you have naturally dark hair that needs a refined update or bleached hair that needs soft transition, this Matrix Professional trend delivers a seamless blend that's both chic and understated.
Mocha Melt:
The Mocha Melt is a unique hair color trend that complements the varied Indian skin tones. Combining warm undertones, this espresso-inspired shade includes all the rich browns. It's sure to brighten your day just like your morning mocha. This Matrix hair color trend adds sophistication and versatility, capturing the comforting richness of your favourite coffee. This trend works well with different skin tones and hair types, giving you a touch of subtle luxury. The SoColor range has some of the most iconic mocha browns.
Gold Melt:
Perfect for those who seek a head-turning yet sophisticated look, the Gold Melt trend complements various skin tones and hair textures. Whether you desire a bold statement or a subtle change, this Matrix Professional trend adds a radiant touch to your style, allowing you to shine and get all the attention you deserve. The Wonder Color range by Matrix has the richest golden hair color that you shouldn't miss out on.
Trends are more than just fleeting fashions – they're expressions of your personality and artistic spirit. So, whether you're seeking a subtle update or a bold transformation, the Matrix professional trends page is your ultimate destination to embark on a style journey that's uniquely yours. Browse through the wide range of hair styling and hair color products to invest in the right products for yourself.