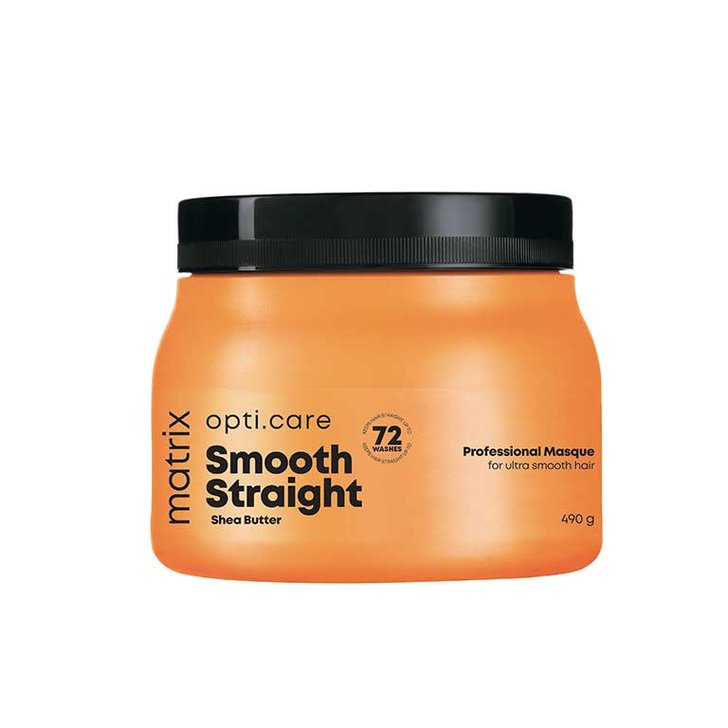 opti opti
Smooth Straight Masque
Professional conditioning for dry and chemically straightened hair.
DETAILS
Chemically straightened hair needs special care to maintain its smoothness and shine. The Matrix Opti Care Smooth Straight Professional Ultra Smoothing Masque is a masque for chemically treated hair that nourishes and protects your hair to give you silky, shiny, frizz-free and healthy-looking locks.
BENEFITS
• The Matrix optic care Masque provides intense nourishment to smoothen the texture and discipline frizz in chemically straightened hair. This deep treatment masque leaves hair soft and manageable.
• Enriched with shea butter, the Matrix ultra smoothing masque intensely nourishes your hair and makes your locks smooth and frizz-free.
• The shea butter Matrix opti care masque also protects your hair against damage from heat styling tools
HOW TO USE
• Step 1 – Shampoo and condition your hair using the Matrix Opti Care shampoo and conditioner
• Step 2 – Apply the Matrix Opti Care masque on wet hair and leave it on for three to five minutes
• Step 3 – Rinse thoroughly and let your hair air dry or blow dry for a smooth finish
• Expert Tip – For damaged hair that is extremely fragile, apply the Matrix opticare smooth straight professional Ultra Smoothing masque and wrap the hair with a warm wet towel for 15 minutes.
For a complete soft, straight, and smooth hair care routine use the Matrix ultra smoothing masque along with the complete range of Opti Care shampoo, conditioner and serum. These Matrix hair treatment products will detangle your hair, increase shine, and make your locks smooth and easy to manage.
KEY INGREDIENTS
Matrix opti care masque is enriched with vitamins A and E and essential fatty acids, shea butter helps reduce the frizz in your hair and increases its shine. This natural conditioner for hair delivers extraordinary moisturizing properties. Locks in the moisture in your hair, and protects your hair against the various damaging elements of nature like sun, wind, and rain. The Matrix hair care range with shea butter also protects your hair shafts against damage from heat styling tools.
Related Products