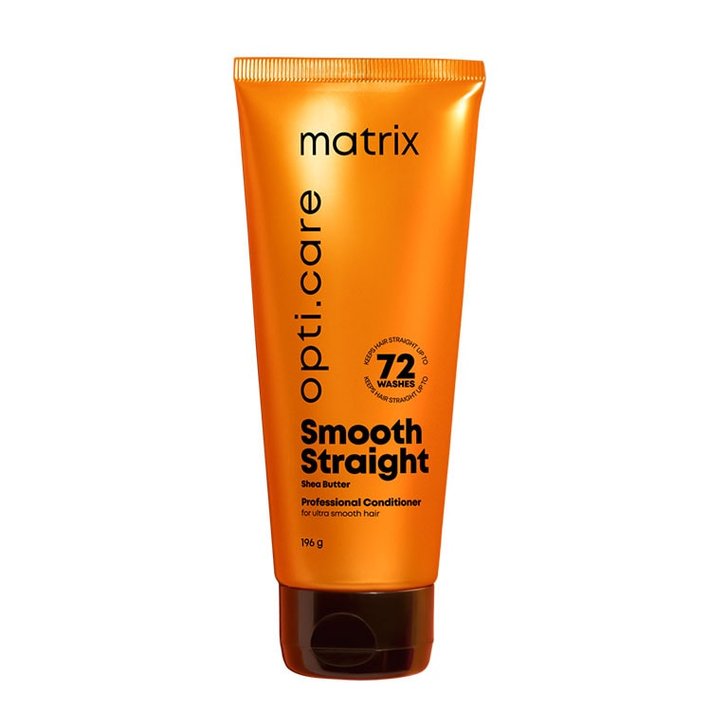 opti opti
Smooth Straight Conditioner
Detangles, moisturizes and tames frizz for upto 72 washes.
DETAILS
Post-straightening hair care is extremely crucial to maintain optimal hair health. The process can make your hair dry and brittle, and hence it's essential to upgrade your hair care arsenal as your regular hair care products might fail to provide the moisture required to maintain healthy hair. Presenting the Matrix Opticare Smooth Straight Conditioner – your new buddy for straightening hair. This Matrix Opticare Conditioner is a professional conditioner for chemically-treated hair that nourishes and protects your hair to give it a silky, shiny, and healthy-looking appearance.
The Opticare Conditioner obtains power from the vitamins A and E-enriched formula to give your straightened hair the care it deserves post the straightening. For intense moisture and nourishment, the hair care pros at Matrix have also infused the formula with essential fatty acids and shea butter. Result? Not only does your chemically-straightened hair receive deep moisturising benefits, but it also gets ultimate split ends protection. People with chemically-straightened hair often complain about frizzy hair. If you too are experiencing this problem, this Matrix frizzy hair conditioner can come to the rescue. This anti-frizz conditioner from the house of Matrix disciplines hair frizz for up to 72 washes. So, take your hair game to the next level with the Matrix Opticare Smooth Straight Conditioner.
BENEFITS
• The Matrix Opticare Conditioner detangles and moisturises your hair and improves its manageability.
• This professional conditioner for split ends maintains straight hair for up to 72 washes.
• Enriched with vitamins A and E, shea butter, and essential fatty acids, the Opticare Conditioner intensely nourishes your hair and makes your locks smooth and frizz-free.
• The anti-frizz conditioner also protects your hair against damage from heat styling tools.
HOW TO USE
• Step 1 - Shampoo your hair with a dedicated shampoo for straight hair.
• Step 2- After shampooing your hair, squeeze out excess water from your hair.
• Step 3 – Now, squeeze a small amount of the Matrix Opticare Conditioner onto your palms and gently massage into your hair from mid-lengths to the ends.
• Step 4 - Leave the conditioner on for 1-3 minutes and then rinse.
• Expert Tip – Use the size of two coins, from higher than mid-lengths to ends, and leave the anti-frizz conditioner on for a few extra minutes to deeply nourish your hair and make it more manageable.
Chemically straightened hair needs special care to maintain its smoothness and shine. Hence, you need to have the right hair care products by your side. For soft, straight, and smooth hair, use the Matrix Opticare Smooth Straight shampoo for cleansing your hair and follow it up with Matrix Opticare Smooth and Straight Conditioner. For best results, include the Opticare Serum, Matrix Opti care Masque, and matrix opticare intense smoothing booster dose into your hair care routine.
These Matrix hair care products work effectively on detangling your hair, increasing hair shine, and making your locks smooth and easy to manage. Upgrade your straightened hair care routine with the Matrix Opticare range.
KEY INGREDIENTS
Matrix Opticare Conditioner is powered with vitamins A and E, essential fatty acids, and shea butter that help reduce hair frizz and increase hair shine. The moisturising properties of these hair care ingredients help seal the moisture in your hair and protect your mane against the various damaging elements of nature like sun, wind, and rain. The Matrix Opticare Conditioner with shea butter also protects your hair shafts against damage from heat styling tools.
Related Products