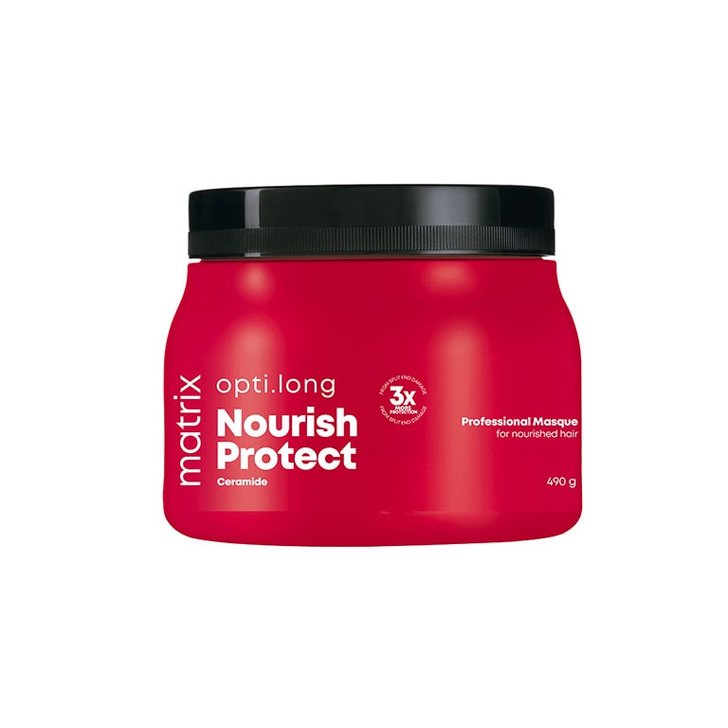 opti opti
Long Nourish Protect Masque
Helps nourish, strengthen and protect hair across its length.
DETAILS
Tangled hair and split ends keeping you away from the hair of your dreams? Discover the professional solution for long and nourished hair, the Matrix Opti Long Nourish Professional Nourishing Masque. The deep conditioning treatment acts as a split ends solution and provides strength and nourishment to the hair fibers so you can reveal long healthy hair
BENEFITS
• The Matrix Masque provides deep conditioning to your hair fibres and makes them manageable from root to tip
• With the nourishing hair treatment, hair retains moisture better and feels smoother and the porosity and elasticity of the hair is improved
• The ceramide in the Matrix hair masque strengthens hair and minimizes damage for shiny, healthy hair
HOW TO USE
• Step 1 – Wash your hair with the Matrix Opti Long Shampoo
• Step 2 – Section your hair and apply the deep conditioning hair masque evenly to clean, damp hair
• Step 3 – Leave the hair masque on for 15 minutes and rinse thoroughly
• Step 4 – Blow dry or style as desired
For a complete hair breakage treatment use the Matrix Opti Long Hair Masque along with the complete range of Matrix Shampoo, Conditioner, and Leave-In Cream. These Matrix hair treatment products will protect your hair from damage so you can flaunt long, healthy hair.
KEY INGREDIENTS
Naturally found in hair cuticles, ceramide acts as a cement that keeps your hair fibres intact. The strength and elasticity of your hair, moisture retention, shine and smoothening, and resistance to breakage all depends on these ceramides. Constant exposure to environmental aggressors and overuse of heat and chemical treatments can deplete the levels of ceramides in your hair, causing your hair to become dry, rough, and damaged over time. Enriched with ceramide, the Matrix split ends treatment restores the ceramide balance in your locks, minimizes damage, smoothens the hair, and enhances shine. The Matrix hair care products are a professional solution for long hair maintenance.